Liens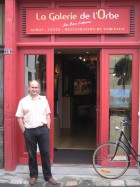 Atelier galerie Lafouresse
http://www.atelier-galerie-lafouresse.com
Partenaire et restaurateur de la galerie Lhoste depuis 1986. La galerie Jean-Bruno Lafouresse est située à Bayonne au 13 rue Vieille Boucherie.
Museum of arts and design de New York
http://www.madmuseum.org/
Vous trouverez une représentation très large du bijou contemporain. Certains de nos artistes exposés font partie de la collection du musée.