Young italian shepherd
Pifferaro
Circa 1880.
Oil on canvas mounted on panel 69 X 55 cm, mounted in a golden frame a little broken and veiled 79 X 66 cm.
Originally painted in a simulated oval, probably on a rectangular canvas, a "restorer" preferred to cut it out and put it on a panel on the back of which appears an attribution to Jean-François Portaels, surprising but plausible, this artist having won the Prix de Rome (the Belgian!) and stayed in the Eternal City, but prior to the creation of this painting; I hope this is not the postponement of a signature which would have disappeared when cut! Provenance Outre-Quiévrain.
The Pifferari, Abruzzo shepherds with their characteristic traditional dress, came down to Rome in the off-season, where, for a few coins, they gave the albade in groups of two or three musicians at the foot of the countless statues of the Virgin that adorn Rome.
Their second activity being to serve as models for passing painters and photographers !
This young boy with a sweet physiognomy wears the classic costume, a shirt covered with a sheepskin waistcoat, a coat with a collar covering the whole thing, as well as the hat decorated with pompoms and a red ribbon.
Do not hesitate to ask us for photos or additional information by email or phone.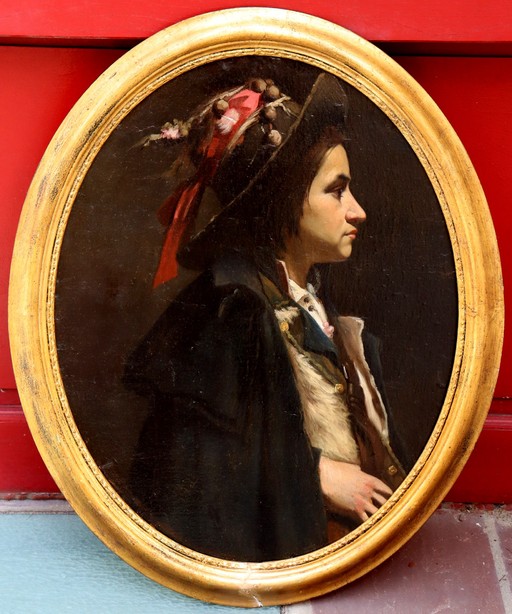 Related projects