Very large dionysian cup
Grand Tour
19ème siècle
«Grand Tour»: grand cratère dionysiaque, seconde moitié XIXe, bronze patine médaille 24 X 36 X 26 cm.
Ce modèle se rapproche du fameux «vase Warwick» avec notamment les mêmes prises en forme de ceps de vigne entrelacés, mais le décor est sur le thème de la vigne et du vin, orné de treilles et de bustes de Demi-Dieux ou de héros (Hercule, etc…).
Très fin de ciselure et de patine, ses belles dimensions en font un objet de grande décoration.
N'hésitez pas à nous demander des photos ou renseignements supplémentaires par mail ou téléphone.
Grand Tour
19th century
Grand Tour": large Dionysian crater, second half of the 19th century, patinated bronze medal 24 X 36 X 26 cm. This model is similar to the famous "Warwick vase" with in particular the same grips in the form of intertwined vines, but the decor is on the theme of vines and wine, adorned with trellises and busts of Demi-Gods or heroes. (Hercules, etc…). Very fine carving and patina, its beautiful dimensions make it an object of great decoration. Do not hesitate to ask us for photos or additional information by email or phone.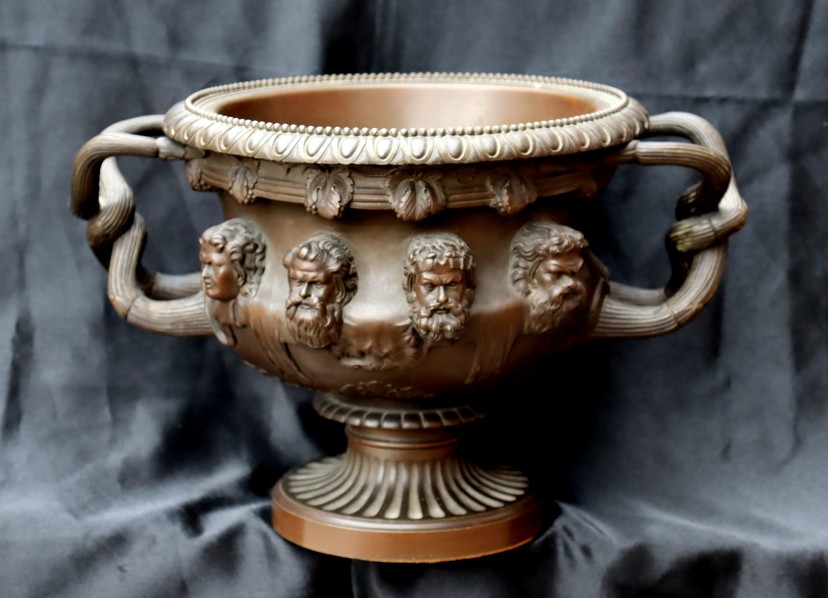 Related projects